Welcome to Eaddy Acres
We operate a market garden in Chapin, South Carolina that is focused on producing high quality local vegetables, cut flowers and fresh eggs.
Currently we are only available for farm pickups by appointment or by finding us at a local farmers market.
To visit the farm for pickups, please arrange a time so we can be here!
Our goal is to connect the surrounding community with vegetables and flowers grown by their neighbors. Get to know your local farmer by shopping with Eaddy Acres to see how your favorite vegetables are grown.
We are fulltime farmers with a passion for crafting and our soap collection reflects that. Always made with skin loving ingredients.
Located just outside of Columbia South Carolina we provide farm fresh goods to those with limited space and time to grow food.
Lets incorporate locally grown food and fresh eggs into your self care routine!
Come Shop At The Farm!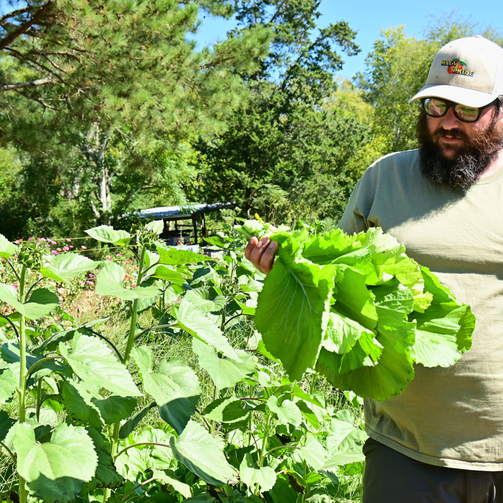 Featured product
Garden Consult- Phone Call 30 Minute
Regular price

Sale price

$30.00
Get personalized advice from experienced farmer Justin to maximize the success of your garden. Justin has expertise with container gardens, small yards, and market gardening - perfect for creating, troubleshooting, or upgrading your garden. Make your investment worth it with Justin's knowledge of farming in the unpredictable South Carolina climate. 
Our Garden Consult is a 30 minute phone consultation with Justin, an experienced gardening expert. He has knowledge on a variety of plants from sunflowers to tomato plants, and can provide helpful advice tailored to the customer's unique needs.
When checking out, be sure to include all of your contact information including email and phone number to ensure we can reach you. 
100% Lard Soaps from South Carolina Pigs
4

products
Keep Up With Us on Youtube!
Meet the Farmers
Justin and Becca are the people behind Eaddy Acres. While living in a townhome in the city, we grew vegetables on every square inch on our porch possible. We started with growing in small containers and here we are now cultivating 1 acre in flowers and seasonal produce.
Becca is a Western Carolina University graduate with a B.S in history with a focus on museums. She loves all things Southern Appalachian, old houses and folk music. Justin has worked in sales for nearly 10 years and has done nearly every job within home remodeling.
Our long term goal was more land to cultivate and dedicated workspace for wood and metal. 2020 accelerated those long term goals, and we relocated from Charleston, South Carolina to the outskirts of Columbia.
We are building Eaddy Acres to be the beginning of our regenerative farming journey while creating a career and lifestyle.
We're entering our 2nd year and loving every secdond of interacting with this amazing community.
Our Shop