Collection: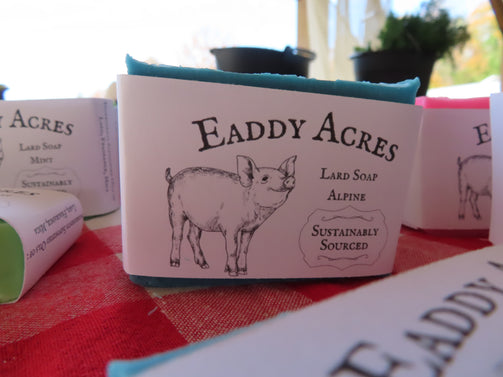 Collection:
Alpine Lard Soap From South Carolina Pork
Alpine Lard Soap From South Carolina Pork
Regular price

Sale price

$9.00
In 2020 we fell in love with crafting handmade vegan products, over time costs increased and became harder to find. In an effort to become more sustainable in the long run, we have made the switch to 100% lard soaps. While this is made from an animal product, these pigs lived on pasture and were ethically cared for less than 20 miles from our farm.
This lard is sourced from Long Story Farms located in Newberry, South Carolina.
Lard soaps are a fantastic option to add sustainability into your lifestyle, most folks aren't cooking with lard so this byproduct typically goes to waste. This benefits the farmers, who normally don't move thirty pound bags of lard to one customer. 
These are different than the soaps your granny used to make though! We have access to lye calculators to make sure there is no excess in the formula to dry your skin. 
Lard is different because it doesn't make large bubbles like normal soap, instead you get a silky thick white lather with minimal bubbles. 
Ingredients: Lard, Sodium Hydroxide, Mica, Fragrance. 
Weight: 5oz
Scent: Alpine, this is a fresh blend that smells great year round with notes of crisp evergreen trees.